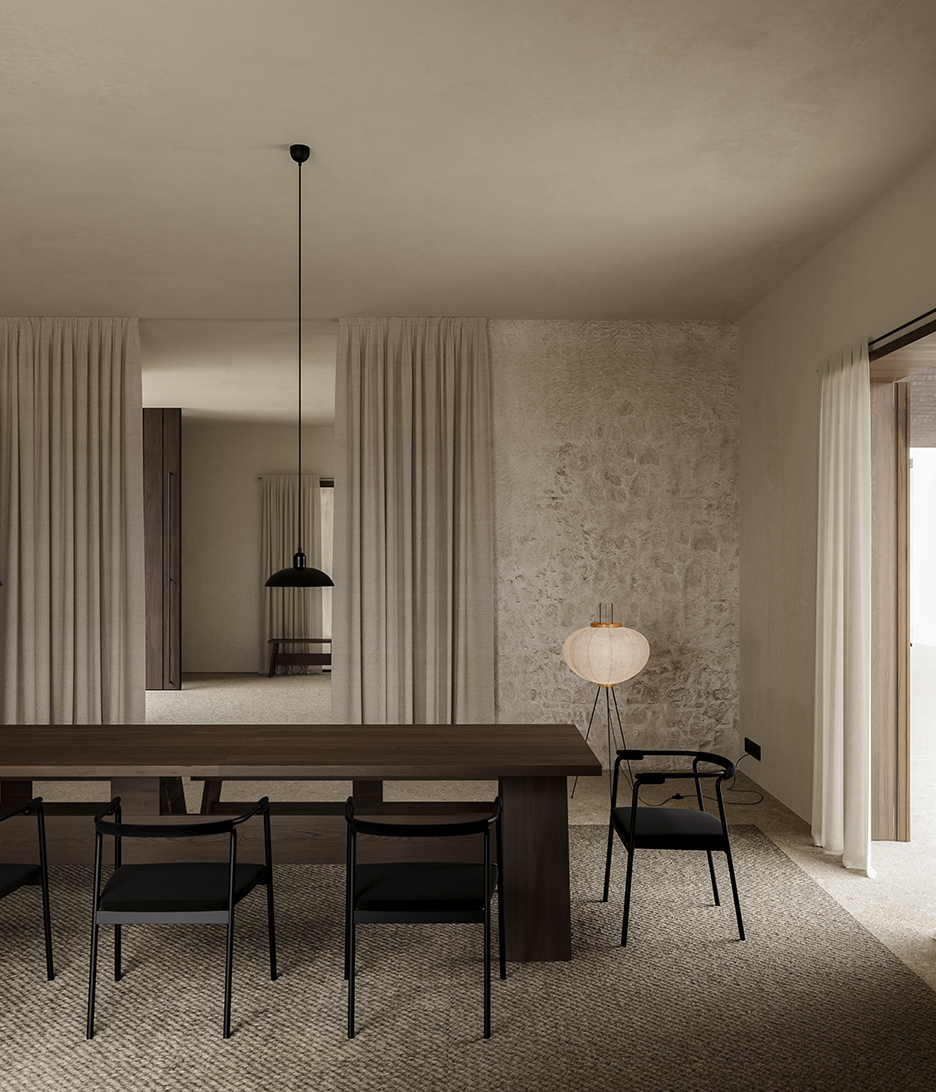 The occupation of the plot allows us to have a single-story home. It was proposed to separate the house into two large groups - a day area where we find a more open, shared, and socializable space, and the night area; which is a more private area, where the rooms are located.
The entire house is preserved with two-sided communication and synthesis. The house was oriented so that all the spaces received the direct incidence of the sun. Keeping the north face of the home as protected and closed as possible would protect the inhabitants from the strong wind common to this region, and also helps us force cross ventilation that allows us to keep the rooms open and fresh in summer.
The more closed-off space houses the access, circulation, and service areas. The house's layout is on one floor, and the entire interior distribution has direct and walkable contact with the outside, thus enabling a Mediterranean lifestyle. The day area is formed by a distributed entrance, leading us to the house's different areas. There is ample open space marrying the living, kitchen, and dining areas. The kitchen is the nerve center of this area, standing right in the middle - enhancing sociability.
A minimalist and functional architecture that blends in with the environment helps to enrich small construction details and natural materials.
The entire transition from the day to the night area is through uncovered areas, which substantially freed up any further construction since we understand that being a seasonal summer space does not mean inconvenience.
The area designated for the rooms is made up of three apartments that can each function independently. Each of them is designed for two people and, occasionally, up to four. A small kitchen and dining room allow us total independence without needing the rest of the house, increasing the users' privacy.
The three rooms or apartments are internally connected, giving more versatility while renting these spaces. The functionality of these apartments was designed keeping in mind off-season housing and shorter stays. These apartments can independently cover all the needs necessary, with the ability to keep the rest of the house closed.
The pool is located in front of the rooms. It was sought to create an environment of rest and contemplation, and contact with water helps achieve this feeling.
In this project, we understand the pool and its surroundings not as a playful, active, and noisy space but as a soothing space promoting calmness and peace.