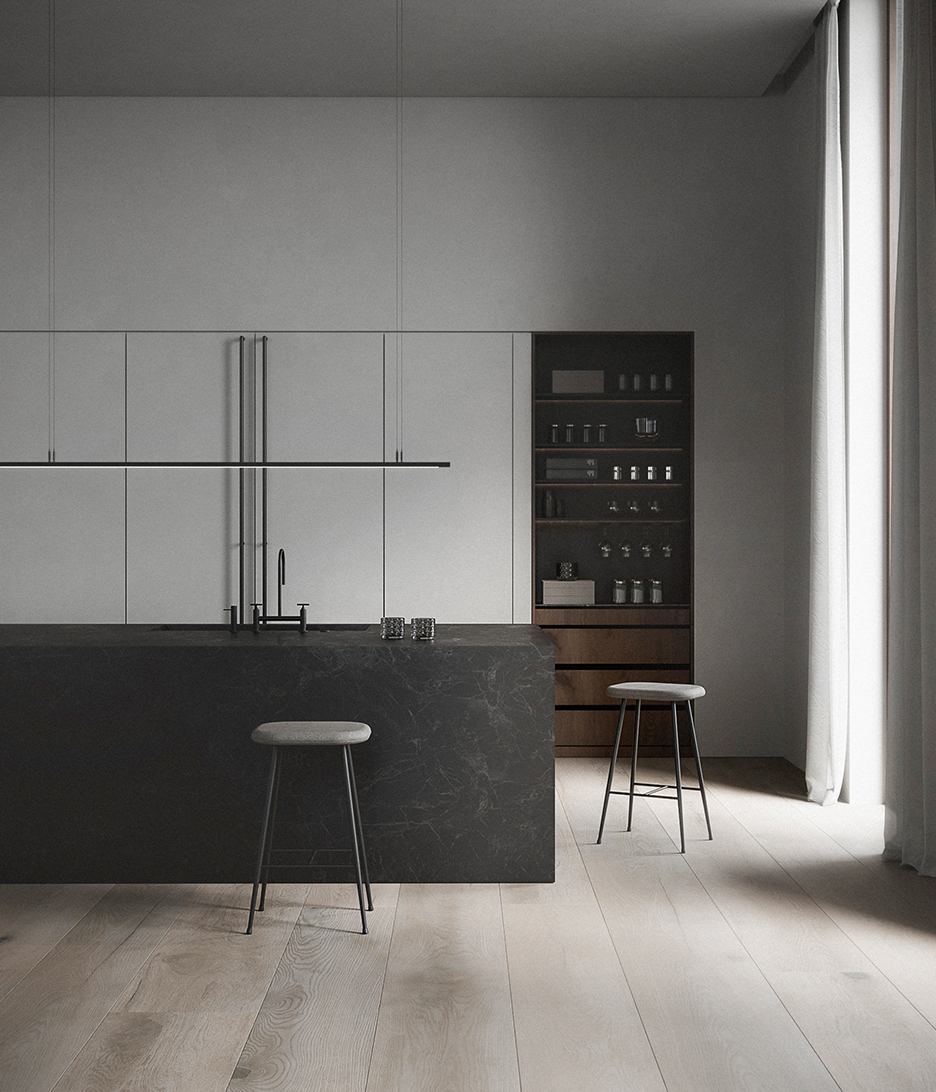 The residential space has a good orientation with lots of natural lighting.
For the vast majority, the kitchen is the nerve centre of the home, which drives and sustains daily life. More than 30 years ago, the kitchen used to be the heart and soul of any home. However, with the passage of time, technological advances, improvement in quality of life, and sociological changes had relegated the kitchen to be simply an independent room to cook in.
The kitchen is reimagined in a unique space blending with the living room and dining room. The life of the space revolves around the isle, where one eats, enjoys, and works. It is a social meeting place where all meetings and celebrations begin. To do this, the work area is hidden, thus allowing one to be flexible – by orienting the room as the space demands, whether it is to work, or to radiate the space towards the guests.
The rooms manage to work together and allow people and spaces to relate and connect with each other, with the flexibility of being able to shape and redistribute the day area according to the activities and the needs that are required during different times.
The kitchen as a central space for socialisation at home.
The kitchen as a central space for socialisation at home.
The uniqueness of this project involves the rhythm of openings in the façade. It is precisely its orientation that allows the interior space to receive the entry of natural light throughout the day and to clearly mark the distribution of the space.
The incidences and tonalities of the light during the different hours of the day manage to make the most of the space by recreating different scenes and atmospheres thanks to the use of neutral colours, materials and textures. It's a ploy that follows all architectural and decorative lighting.
All the furniture is contemporary, with iconic pieces included to give personality to the space.
Wooden flooring and natural stone are the materials that acquire greater relevance in the space; both materials being responsible for maintaining harmony and homogeneity in all areas.
In conclusion, the kitchen serves as the heart of the home that opens to the rest of the rooms and leaves behind the isolation it has suffered for years. With its integration into the home, it rises as the new meeting place for family leisure and social gatherings.