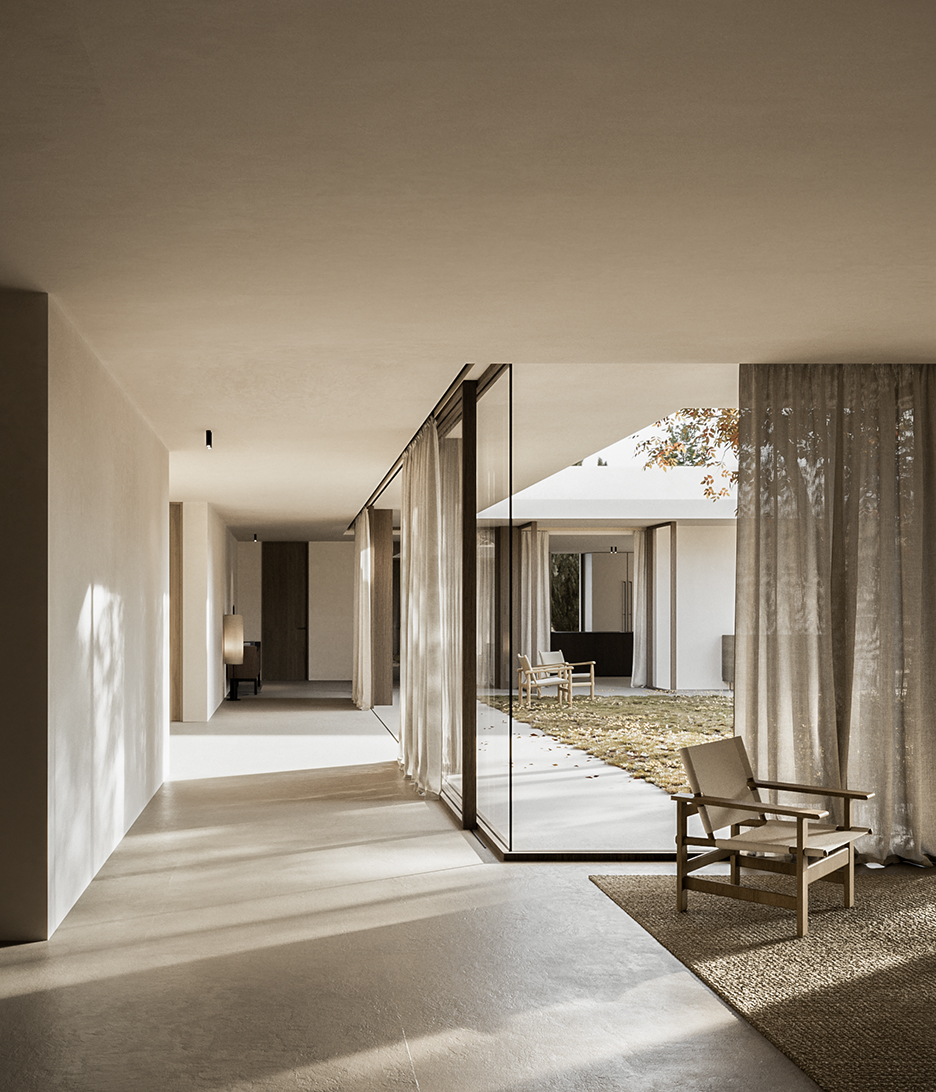 Once entering the house, you have a route that follows into the courtyard. If we go to the day area, we enter an open space where we find the most formal area of the house. In this social space, we have the kitchen as the heart, with dining, and living areas. From the day area, we have the incidence of the sun throughout the day, allowing more than 180° visual degrees.
Thanks to the transparency of the space, we can enjoy the environment from any point in this area.
The kitchen has a large island that acts as a social and functional space, designed to become the meeting point for family or friends' events. It is served by a small terrace facing east and designed to take advantage of the morning light, perfect for outdoor lunches.
The day area has direct contact with the patio and the outdoor space, where we placed a table designed for outdoor events. Thanks to the trees and their natural shelter, the area has adequate sun protection in summer and direct sunlight during the winter months.
We turned the transitory areas into a visual experience by creating constant communication with the exterior.
In the night area which is more private, we added a family living room that serves as a less formal and more secluded space that allows us to leave the day area behind us and conserve energy.
The master bedroom is the most important space in the night area. Thanks to the layout, we can enjoy the incidence of natural light and direct views of the environment. This room has direct contact with an outdoor area that acts as a space of contemplation, in addition to being a solarium; thereby creating a relaxing area where you can unwind and enjoy the outdoor space.
After several meetings with the client, we then decided to incorporate a second floor, designed for the client's children, where we separated the space into two complete rooms and a common area, designed as a study, work, or play area. Each room has an independent terrace with lots of natural light.